Amphenol
Amphenol is one of the largest manufacturers of interconnect products in the world. It has a worldwide vision of connecting people with technology. Amphenol designs, manufactures, and markets: electrical, electronic, and fiber optic connectors; coaxial and flat-ribbon cables; and interconnect systems.
The primary end markets for the company's products are communication and information processing markets. Including: cable television, cellular telephone, data communication, and information processing systems; aerospace and military electronics; as well as automotive, rail and other transportation and industrial applications.
Optimize
Optimize is the low cost manufacturer for Amphenol. Manufacturing high quality products for the divisions of Amphenol Corporation, and specializing in connectors, antennas, cable assemblies, and harnesses.
Amphenol Optimize has been in Nogales since 1984. It started out as Productos de Memoria, then joined Optimize Mfg. Co. in 1985 as a wholly owned subsidiary. In 1990, Amphenol Corporation purchased Optimize Mfg. Co. and the name was changed in 2000 to Amphenol Optimize.
Currently, there are 15 plants in Nogales, México with another plant in Hermosillo, México along with the Arizona Warehouse/Distribution Center in the US. There are thousands of enthusiastic employees in this area alone!
Meet Amphenol's Global Businesses
Map of Amphenol-Optimize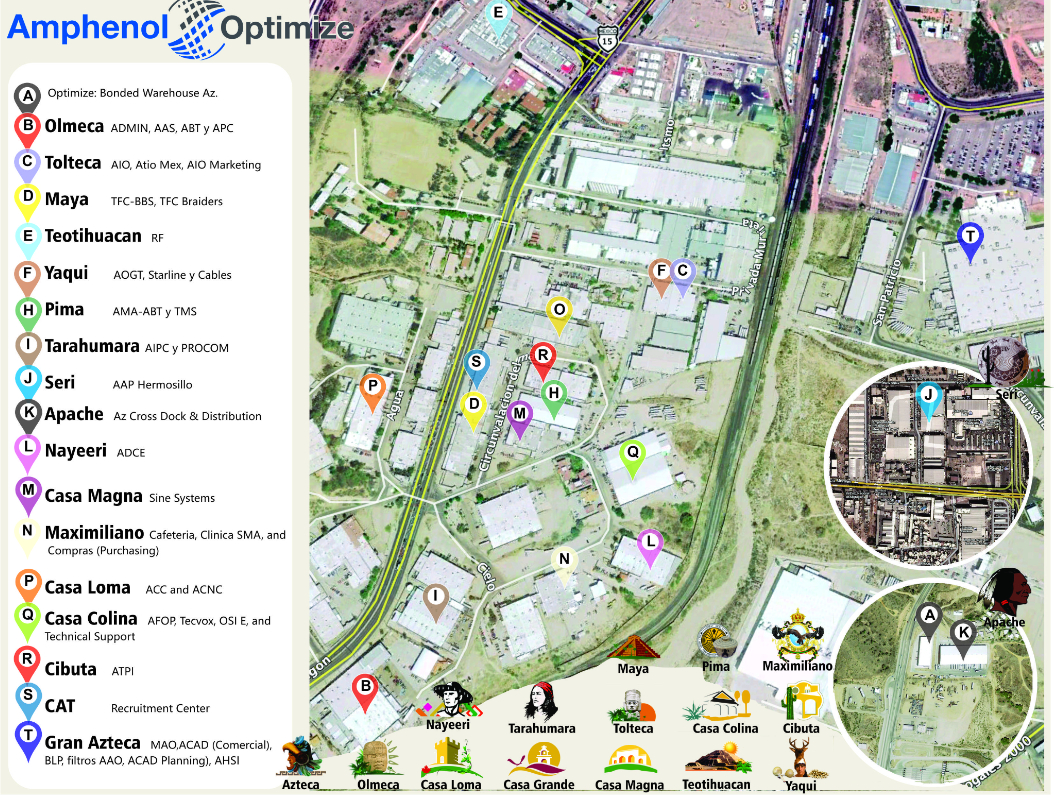 | | | |
| --- | --- | --- |
| DIVISION | DIVISION NAME | BUILDING |
| AA-CNC | Amphenol Aerospace Operations CNC | GRAN AZTECA |
| AA-HSI | Amphenol Aerospace High Speed Cables | GRAN AZTECA |
| AA-Molding | Amphenol Aerospace Operations Molding | GRAN AZTECA |
| AAO | Amphenol Aerospace Operations | GRAN AZTECA |
| AAO Marketing | AAO Marketing Department | GRAN AZTECA |
| AAS | Amphenol Antenna Solutions | OLMECA |
| ABT | Amphenol Borisch Technologies | OLMECA |
| ACAD | Amphenol Comercial Air Division | GRAN AZTECA |
| ACC | Amphenol Canada Corp. | CASA LOMA |
| ADCE | Amphenol DC Electronics | NAYEERI |
| ADMIN | Amphenol Optimize Administration | OLMECA |
| AFOP | Amphenol Fiber Optic Products | CASA COLINA |
| AFY | Amphenol Fuyng Communication Equipment | OLMECA |
| AIO Marketing | Amphenol Industrial Operations Marketing | TOLTECA |
| AIO-NAD | Amphenol Industrial Operations North America Distribution | TOLTECA |
| AIO-Cables | Amphenol Industrial Operations Cables | TOLTECA |
| AIO-Conn | Amphenol Industrial Operations Connectors | TOLTECA |
| AIO Molding | Amphenol Industrial Operations Molding | TOLTECA |
| ALDEN | Amphenol ALDEN Products | SERI (HERMOSILLO) |
| AMA | Amphenol Military Aerospace | PIMA |
| AOGT | Amphenol Oil & Gas Technology | TOLTECA |
| AOGT Marketing | Amphenol Oil & Gas Technology Marketing | TOLTECA |
| APC | Amphenol Printed Circuits | OLMECA |
| ATPI | Amphenol Technical Products Inernational | TEOTIHUACAN |
| BLP | Amphenol Board Level Products | GRAN AZTECA |
| CAFETERIA | Amphenol Cafeteria | MAXIMILIANO |
| FILTERS AAO | Filters Amphenol Aerospace Operations | GRAN AZTECA |
| PROCOM | Amphenol PROCOM | OLMECA |
| RF | Amphenol Radio Frequency | TEOTIHUACAN |
| SINE AZM | Amphenol SINE Arizona | ARIZONA |
| SINE Cables | Amphenol SINE Cable Systems | CASA MADNA |
| SINE Connectors | Amphenol SINE Conector systems | CASA MADNA |
| TECVOX | Amphenol Tecvox | CASA COLINA |
| TFC-BBS | Times Fiber Communications-Broadband Solutions | MAYA/ CASA GRANDE |
| TMS | Amphenol TMS | PIMA |
| WAREHOUSE AZ | AZ Warehouse Distribution Center | APACHE |